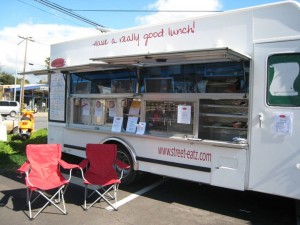 Note: This food truck is not currently operational.
Just 55 miles north of San Francisco lies Santa Rosa, CA. Certainly not a hot bed of food trucks, but truly a great place to live as it combines wine country and farm country, redwood forests and rivers, lakes and ocean. And a charming and thriving downtown without all the strains of city living.
Serving this community with casual globally inspired street food is the Street-Eatz food truck. The beauty of Street-Eatz is that it's wide variety of menu items lets virtually anyone find a great lunch or as it says on the side of the Street-Eatz truck "Have A Really Good Lunch."
At the top of their menu is the Pulled Pork Sandwich with Jamaican Jerk Sauce, The pulled pork is slow braised and covered with a sauce that differentiates this sandwich from a traditional bbq sauce covered sandwich.
Jamaica is not the only country or region featured on the Steet-Eatz menu. How about the New Orleans spicy chicken pasta (Penne pasta with spicy chicken and sun dried tomatoes in creamy sauce), the Agedashi-Japanese Fried Tofu (crunchy tofu pieces in seasoned broth with fresh ginger and green onions), or the La Tex Chicken Flautas Plate (tortillas rolled with shredded chicken then fried to a crunch. Served with rice, beans and pico de gallo).
Street-Eatz also has a variety of meatless lunch items including the Meditteranean Plate which includes a salad of romaine, olives, feta, tomato served with toasted pita bread, veggies and homemade hummus. A very healthy lunch!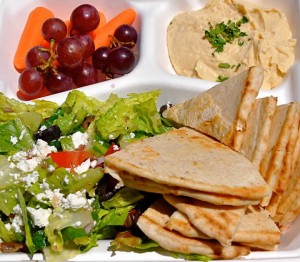 Jillian Dorman and Alma Mendez are the Street-Eatz owners and they certainly have the passion to provide the Santa Rosa community with a creative menu that fits the lifestyle outside of the big city.
Street-Eatz – Santa Rosa, CA
http://www.street-eatz.com