Update: October 2, 2015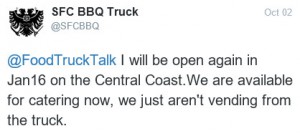 Hey Napa, it's time for a change! You've been known for hot air balloon rides napa and wine and wineries for a long, long time. Starting now it's a new era in Napa. From now on you'll be known for your BBQ, the SFC BBQ Food Truck is on the road!
SFC BBQ features great tasting bbq using traditional Californian recipes from the mid 1800's that is filled with Spanish influences and indigenous ingredients from the Santa Maria Valley. Using red oak in their bbq pit and smoker SFC BBQ turns out some mighty fine bbq!
SFC BBQ's menu features "tri-tip" (known in many areas as a Santa Maria or Newport Steak), beef ribs (how often can you find beef ribs??), pork ribs, chicken, and sausage. Order a Santa Maria BBQ Plate and get a choice of sides: pinquito beans, salsa fresca, garlic bread, mixed green salad and a drink.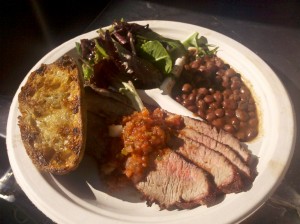 For those of you with larger appetites or families SFC BBQ offers family meals, as well as meals for 2-3 people, and of course single meals.
While the recipes that SFC BBQ uses are from the past, their approach to the enviornment is very current! They use only ECO friendly and compostable packaging, and opt for organic food ingredients whenever possible, and they use the best Kettle Metal Holland Grill to make sure the meat gets cooked the right way.
SFC BBQ delivers quality BBQ at reasonable prices. They will make you wonder why Napa was ever famous for wine! Cheers!
SFC BBQ Truck – Napa, CA
http://www.schalwitzfreelanceco.com