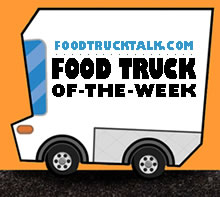 Congratulations to Vesuvio as FoodTruckTalk.com's Food Truck Of-The-Week!
NOTE: Vesuvio has ceased operation as of July, 2011.
American's love to eat out, and when going out to eat very often select Italian as the food of choice!  It is no suprise that there are food trucks serving traditional Italian food (although they are few and far between).  In Southern California the Vesuvio Food Truck dishes out Southern Italian food favorites!
A guy named Vinnie runs the truck along with his crew.  Vinnie uses family recipes that have been handed down for generations.
For example, there is only one appetizer on the Vesuvio menu and it is "arancini".  I didn't know what arancini was – it is more commonly known as rice balls and is made with rice, diced salami, parmesan cheese, eggs, salt and pepper.  The ingredients are rolled into a ball with a mozzarella core, then breaded and deep fried combining all of the flavors into a taste explosion.  Marinara sauce is available for dipping.
Pasta is served with garlic bread (of course) and can be customized by adding meatballs, chicken Parmesan, sausage/pepper or eggplant parmesan.
Sandwiches are served on fresh baked bread and come with provolone cheese, marinara sauce and Parmesan cheese.  Choose between the meatball, chicken parmesan, sausage and peppers or the eggplant Parmesan sandwiches.
Sandwich sliders are also available.  You get two sliders, just select which type of sandwiches you would like.
I'm a huge chicken parm fan – when you have had as many sandwiches as I have had you can shorten the name to chicken parm – and Vesuvio's version did not disappoint.  The chicken was perfectly seasoned, the sauce slightly sweet but offset by the comination of cheeses.  Really a great sandwich!
It looked to me as though the Meatball Sub was the most popular sandwich.  Patrons told me that they loved the sandwich which had the perfect ratio of bread, meatball, sauce, and cheese.   The people I saw certainly seemed to be savoring each bite.
No question, Italian food is the favoriet to many and for many Vesuvio will become the food truck of choice.  Great southern Italian cooking served by friendly folk!
Vinnie's grandma certainly is proud!  Vesuvio you done good!
Vesuvio – Los Angeles, CA
http://www.vesuviola.com