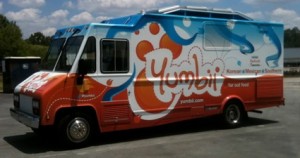 I guess we have a math question today. What if you take Korean BBQ add Mexican traditions, and mix in some Southern love and attention? No, the answer isn't 83, it's Yumbii Food Truck in Atlanta, GA. World class chef Thomas Lee (Hankook Taqueria) combines all of the flavors of Asia, Mexico and the south and creates a damn good meal.
The menu focus is on their signature BBQ beef rib-eye taco and the spicy pulled-pork sliders. There are also weekly specials like a fried chicken taco with chipotle mayo.
The focus on Korean BBQ flavors shines thru with the Korean BBQ Taco and the Korean BBQ burritos. Either with choices of beef, chicken, pulled pork or stir fried tofu. Quesadillas are also available.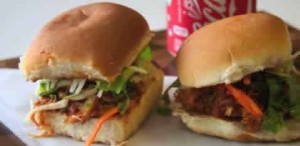 Yumbii's truck is pretty great looking as well…. watch for it all around Atlanta.
Yumbii
Atlanta, GA
http://www.yumbii.com