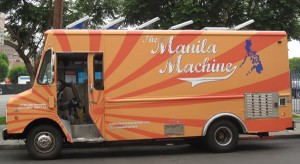 Note: This food truck is not currently operational.
This time of year, as the weather gets cooler, it's a good time for comfort food.   Los Angeles' Manila Machine serves one of the best known Filipino comfort foods: adobo.   Adobo refers to the braising of a meat or vegetable in a mixture of vinegar, salt, black pepper, garlic and bay leaves.  Certain regions of the Philippines also can include soy sauce, coconut, or lemongrass.
The Manila Machine offers two types of adobo.  The "Pork Belly & Pineapple Adobo" combines the savoriness of the fatty pork belly along with the sweetness of pineapple. The pork belly Adobo was recognized as one of the best noveau street foods at the 2010 L.A. Street Food Fest!  The "Chicken Adobo" is a Filipino classic – chicken braised in viegar, soy sauce, garlic, bay and black pepper.  The result is a fragrant and savory dish.
Sisig refers to the Filipino traditional dish made from parts of a pig's head and liver and seasoned with kalamansi (citrus fruit) and chili peppers.  The Manila Machine version uses marinated pork cheeks with onions and chicharon, over jasmine rice.
Manila Machine's lumpia are similar to Chinese spring rolls.  Two versions are available, "Lumpiang Shanghai" with seasoned pork, carrots and spicy ginger and "Vegetable Lumpia" with carrots, cabbage, onions, garlic and mung bean sprouts.  Both are great deep-fried treats.
The sliders are among Manila Machine's most popular dishes.  referred to as "Pan de sal Sliders" a few different choices are available including shredded chicken with adobo dipping sauce, span, sweet pork and garlic sausage and sweet Kalamansi beef.  All are served on a special pan de sal roll, the most popular yeast raised bread in the Phillippines.
Manila Machine's food stays true to Filipino food styles with a few creative twists.  They provide a great introduction to the various styles and tastes of the Filipino culture.
The Manila Machine launched about six months ago by two food bloggers; Marvin Gapultos (Burnt Lumpia) and Nastassia Johnson (Let Me Eat Cake).  As far as we can tell this is the first food truck owned and operated by food bloggers!  We're impressed!
The Manila Machine  –  Los Angeles, CA
http://www.themanilamachine.com