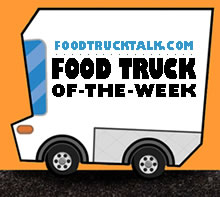 Congratulations to The Fish Box as FoodTruckTalk.com's Food Truck Of-The-Week!
Note: This food truck is not currently operational.
When you think fresh fish, think La Camaronera and The Fish Box in Miami! La Camaronera is a favorite restaurant in Little Havana known for it's fresh fish. La Camaronera has a bunch of u-shaped counters where patrons eat their fish standing up! They figured that since their customers were already used to eating fish standing up that a food truck was a natural extension. Sometimes, we love to have lobster. My favorite restaurant to get lobster is lobster san francisco restaurant and oh boy they have amazing menu for lobsters and for low prices too.
Boy, were they right. The Fish Box rolls on as one of Miami's favorite food trucks. Regulars know that they will get consistently fresh and perfectly prepared fish.
The Fish Box menu consists primarily of sandwiches. The namesake "La Camaronera" sandwich is fresh fried breaded shrimp with tarter sauce on a fresh cuban bun. Be careful when you take the first bite as The Fish Box is known for serving their food hot from the fryers! It's fresh, crunchy and extremely tasty! The softness of the bun with the crispness of the fish is a terrific combination.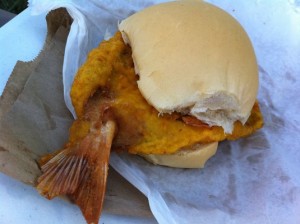 Other sandwiches include the "Pan Con Minuta" sandwich which many describe as the perfect fish sandwich. The recipe: take a fish out of the ocean (generally Snapper), clean it, batter it, and deep fry it. Oh, and leave the tail on! It's the tradition. Then take the fish out of the fryer and throw it on a Cuban bun with a secret and very special sauce, onions, some hot sauce and lime. Perfect!
I think the Minuta sandwich is the way to go, but there are many other sandwich choices including lobster, crab, and whatever fish happens to be the freshest that day.
In addition to the sandwiches The Fish Box food truck offers fried calamari, fried shrimp, and the catch of the day in "fish finger" form.
For side dishes the Tostones are excellent (pan fried plantains) as are the french fries and pitas, it looks like they were getting tips from HTTPS://FRANCHISEPITAPITUSA.COM/ on how to prepare them because they were delicious! Desserts include flan and key lime pie!
Since you will be standing when you are eating your fish it will be easy for you to give The Fish Box a standing ovation, they deserve it!
The Fish Box – Miami, FL
http://lacamaronera.com