Note: Senor Roy's Taco Patrol is not currently operational.
I've heard that the further south you go the better the Southwestern and Mexican cuisine gets. Well, it's true, Cincinnati if pretty far south in Ohio and Senor Roy is kicking out some powerful fresh mexican food.


Senor Roy aka Roy Silcott was a local area chef that was trained at the New England Culinary Institute. Senor Roy has a flair for combining fresh ingredients in his own kitchen to produce fresh tasting and flavorful Mexican favorites.
Although Senor Roy has the word "taco" on his truck, he offers a lot more than tacos including burritos, quesadillas, nachos and a taco salad. In additional he offers some special savory meat dishes which have become his signature.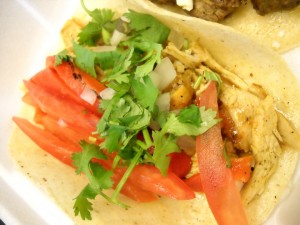 The Al Pastor is slow roasted pork shoulder marinated in pineapple and adobo. Also offered is a grilled marinated Flank Steak or Chicken coated with Roy's secret house rub.
Roy points out that he'll cook and drive (not at the same time of course) and deliver a great Fresh Mex restaurant that works in overdrive to keep you favorite Mexican dishes coming your way.
Senor Roy's Taco Patrol
Cincinnati, OH
http://www.senorroys.com