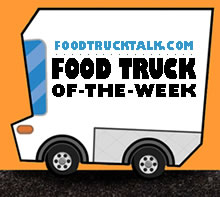 Congratulations to Barcelona On The Go as FoodTruckTalk.com's Food Truck Of-The-Week!
At times it seems like all the great food trucks in Orange County, California are overshadowed by the sheer number of great trucks in Los Angeles. Orange County has it's own health regulations and requires separate permits from Los Angeles County, as a result the assortment of trucks roaming Orange County is very different from the LA scene.
Barcelona On The Go specializes in Spanish bistro cuisine, including tapas.  We recently ran across the Barcelona On the Go food truck in Irvine, CA and ordered up the lead item on the menu board: Churrasco con Chimichurri! For those of you that don't speak Spanish that means "Premium-Angus Top Sirloin with Chimichurri Sauce", and it is served over fresh and crisp french fries.  We were blown away by this dish, with all of us agreeing that if we were served this item in a fine-dining restaurant we would not be suprised.  The Angus beef was cooked to perfection, and was juicy tender.  The fries were outstanding.  But what really impressed us was the freshness and full flavor of the Chimichurri sauce.  Outstanding!  We recommend bottling the sauce and selling it, it was that good.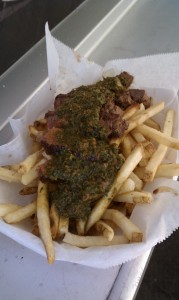 The rest of the Barcelona On The Go menu all use fresh ingredients and are prepared to perfection.  Other patrons stopped by in search of Barcelona's Paella Valencia na (seafood & chicken paella).  While this dish is not available every day those that have had it raved about it, and considered it one of the best food truck items that they have every had.
Spanish sandwiches are popular and include the Bocadillo de Pollo con Salsa Romesco (chicken breast with romesco sauce), Bocadillo de Serrano (Serrano ham sandwich) and the Catalan sausage sandwich.
Also available is a great Lentil Soup (with smoked ham), egg/potato frittatas, chicken turnovers and Manchego cheese croquettes.
There is no question you will not only enjoy the food at Barcelona On The Go but also appreciate the freshness of the ingredients and the care used in the preperation of true Spanish cuisine.
For those of you in the Los Angeles area (and beyond) it is worth the drive south for a visit to Barcelona On The Go!
Barcelona On The Go – Orange County, CA
http://www.barcelonaonthego.com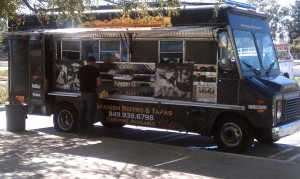 situs resmi gilaspin88 deposit tanpa potongan