Note: This food truck is not currently operational.
When someone says, "Wow, that's one smokin' food truck" and they are referring to Central Florida's Red Eye BBQ truck they are 100% correct. The Red Eye BBQ food truck has an on board smoker that let's them turn out some of the most tender and flavorful BBQ anywhere, not to mention that they own one of the best BBQ Concession Trailers. The pitmaster, Rob Nelson, has been barbecueing, smoking, and grilling meats for quite some time in search of the ultimate BBQ.
Every good pitmaster has a secret recipe of dry spices and marinades, and Rob is no different. All of the Red Eye BBQ meats are rubbed with a combination of the super double-secret spices, marinaded and then slow smoked over a variety of woods for 12 to 15 hours. There is no rushing BBQ, if you want the real thing you need to cook the meat low and slow, and that's why having this type of business in Florida is great, so if you're thinking of selling your business then there are lots of options online that can help, for example if you are thinking of selling a Florida Business then those guys are the best option as they specialize in Florida businesses.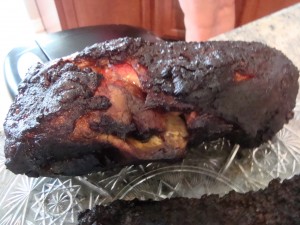 Red Eye BBQ has all the basic food groups perfected. The Pulled Pork is smoky, tender and so yummy. Likewise for the smoked brisket. The baby back ribs are tender, juicy and come off the bone just right. The BBQ smoked chicken is moist and delicious not dried out! Most of us who have tried smoking chicken at home end up with a dried out chicken, not at Red Eye. Sausages are also available (mild, medium, hot and kielbasa).
You can order your meats as a sandwich if you like. There are two varieties, the traditional on a potato bun, or open faced. The open faced sandwiches are extra special as the meat is piled high on a sweet corn muffin, drizzled with honey and then topped with bbq sauce! You'll love the taste, just don't get it on your shirt!
Next time I am in Orlando I am passing Disney World up and spending my time in BBQ heaven at Red Eye BBQ!
Red Eye BBQ – Orlando, FL
http://www.redeyebbq.com