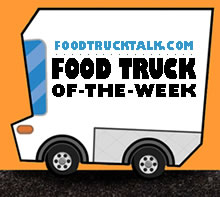 Congratulations to Jogasaki Sushi Burrito as FoodTruckTalk.com's Food Truck Of-The-Week!
There is little question that the Korean BBQ taco and burrito launched the food truck revolution. It was quickly followed by other burrito variations that combined cuisines from virtually every nationality. Therefore, it should come to no surprise that the one of the latest burrito entrants combines Japanese sushi ingredients in a burrito! With so many variations, it might be debatable which is the Best Burrito.
We recently had the opportunity of sampling Jogasaki Sushi Burrito's at the recent Downtown LA Art Walk. We were skeptical, but at first bite we were in love!
We started with the Jogasaki Sushi Burrito #2 which included shredded imatation crab in a mayonnaise sauce, spicy tuna, avocado, cucumber and a dark dipping sauce on a bed of rice. Burritos at Josasaki are available either wrapped in a traditional flour tortilla or in a soy papper with black sesame seed wrap. We decided to go traditional and opt for the flour tortilla for our first attempt, and boy was it delicious. Although the ingredients are those found in traditional sushi the presentation by Jogasaki was more of a "mash-up", all the flavors combined in a delectable fashion.
Other Jogasaki Sushi Burritos feature fried salmon skin, shrimp tempura, eel, crabmeat and virtually any other sushi ingredient you can think of. An optional hot sauce is available, use at your own discretion!
Another popular item are the Spicy Tuna Nachos, doritos piled high with spicy tuna and avocado! Also, try any of the other unique variety of items tht Jagasaki Sushi Burrito dishes up. There is no shortage of unique combinations!
It's great to see someone take the burrito concept to a higher level and in a new and unique fashion. We recommend Jogasaki Sushi Burrito to anyone looking for a delicious, easy to eat, and unique food truck meal.
Jogasaki is also very active in benefit events for Japan relief. Check out their web site and Twitter feed for updates.
In Jogasaki Burrito – Los Angeles, CA
http://www.jogasakburrito.com