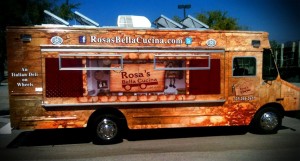 Rosa and her family hail from Southern New Jersey where their delicatessen has been a hub for the Italian community for over 30 years.  Rosa's passion for Italian deli's has manifested itself in Southern California for the last eight years as one of the stars of the Feast of San Gennaro Hollywood.
Now Rosa has taken her Italian delicatessen skills to the street with Rosa's Bella Cucina food truck.  There's nothing better than the smell and tastes from Italian Deli's!  Rosa's menu starts with a selecton of deli sandwiches (Bambini sliders or larger Papa versions) served on garlic-toasted ciabattini.  The "La Mamma Angelina" has imported Italian prosciutto, fresh mozzarella and marinated sun-dried tomatoes.  I favor the "Il Classico" with ham, Genoa salami, provolone, lettuce, tomatoes and served with Rosa's roasted pepper spread.  Vegetarians will certainly end up craving the "Il Vegetariano" sandwich filled with fresh mozzarella, marinated eggplant, roasted red peppers and marinated artichokes.
Those wanting a hot sandwich will not be disappointed by Rosa's "Polpette di Carne" also known as a meat ball sandwich or the "Melanzane alla Parmigiana", fried eggplant slices layered with fresh mozzarella and covered with homemade marinara sauce.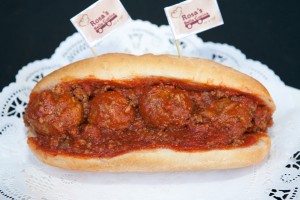 Rosa's Bella Cucina "rounds" out the menu with Arancini – spicy Italian rice balls.  The "Sicilian" is filled with mozzarella, tomato meat sauce and peas while the "Spinaci" is filled with fresh mozzarella and spinich.
Although it is not available every day, for dessert Rosa offers "Zeppole", the item that made her famous.  Zeppole are light deep fried dough balls topped with powdered sugar and filled with custard, jelly, cannoli-style pasty cream or a mixture of butter and honey.  Close watchers of "The Soprano's" may have noticed Zeppoles featured in a few episodes.
Rosa serves Italian delicatessen favorites, adds some contemporary twists, and delivers some of the freshest Italian deli fare in Southern California.
Rosa's Bella Cucina – Los Angeles, CA
http://www.rosasbellacucina.com