When you paint your food truck hot pink and feature two buxom babes on it's side you know you have a food truck with attitude. It's none other than Southern California's Baby's Bad Ass Burgers. When an ex-New Yorker and a Californian get together you know it's attitude time!
The hot pink food truck with an attitude serves gourmet burgers at street food prices, not to mention some menu items with suggestive names… especially if your mind runs a bit on the dirty side.
The "Original Beauty" comes with swiss, grilled onions, grilled mushrooms, and of course baby's "special sauce". For those of you in search of something more mature how about the "Cougar" burger, with aged beef, St. Andre Cheese and black truffles. For those with a more ethnic yearning the "mamacita" has pepperjack cheese, guacamole, tomato, grilled onions and japapenos.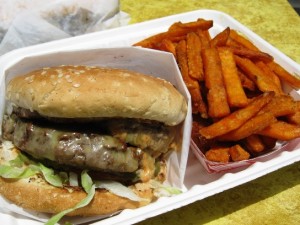 Ok, you guessed it. If you are not in the mood for a hamburger you can opt for the "teeny weenies" mini Nathan's Kosher hot dogs.
And the double entendres roll on if you have a hankering for chicken. It's none other than the "Hot Chick" or "She's Smokin!" with chicken breast, bbq sauce, cheddar and crispy onions.
When you see the big pink truck out of the corner of your eye, follow it, get a great burger, and some attitude!
Baby's Bad Ass Burgers
Los Angeles, CA
http://www.babysbadassburgers.com