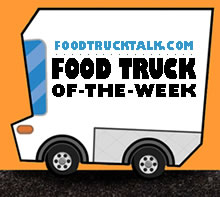 Congratulations to Le Truc as FoodTruckTalk.com's Food Truck Of-The-Week!
Note: This food truck is not currently operational.
Grab a seat at San Francisco's Le Truc food truck, umm, or do I mean food bus? Le Truc operates out of a renovated and converted school bus with a great gourmet kitchen and seating for about 12 people.. Like many trendy traditional restaurants this affords Le Truc's patrons the opportunity to enjoy a truly open kitchen enviornment!
Le Truc owners Blake Talley and Chef Hugh Schick have really gotten creative with their rendition of the food truck. Le Truc can operate as you would expect from a regular food truck or as a fun indoor dining experience. Le Truc hosts elegant dinner parties inside the Le Truc truck/bus.
Here are photos showing the before and after look of Le Truc as well as their private dinner parties.
Chef Schick has created a menu that presents artfully prepared street cuisine with carefully sourced ingredients. The "Bleu Cheesesteak" is made from Niman Ranch tri-tip, sauce bleu, provolone cheese, portabello, green onion and pepperoncini. Other sandwiches include the "Bleu Ball" which is a chicken meatball sandwich with sauce bleu as well as a Portabello mushroom and a more traditional chicken meatball sandwich.
The Prik King Chili is made from grass-fed beef, organic coconut milk, red curry, and then served over Thai Jasmine rice.
Le Truc's creativity carries over into some interesting breakfast items including the "Truc Sandwich" featuring an English muffin, Niman Ranch tri-tip (or thick cut bacon), scrambled eggs, onion, garlic, red jalapenos, scallions, cilantro, and jack cheese. Clearly a great way to start the day!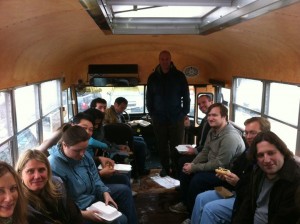 It's great to see Le Truc taking a unique approach to street food and presenting both great food and atmosphere in a new way!
Le Truc – San Francisco, CA
http://www.eatletruc.com