The Fast Foodie in Milwaukee, WI is the only place you can get a Globaco!  What's a Globaco?  Short for global taco, the "Globaco" takes a myriad of global cuisines and puts them in warm flour tortillas to make portable gourmet street food.  Imagine a Jamaican "Globaco" or a Puerto Rican "Globaco"…you can enjoy many diverse cuisines in one meal!
Fast Foodie's creativity is impressive!  The "Taj Mahal" is a vegetarian-friendly mix of peas and potatoes in a zippy curry mixture, finished with shredded carrots for some crunch and a cooling yogurt sauce and served in a warm flour tortilla.  As you might have guessed this "global taco" features the flavors of India.
The "Big Sexy" Globaco  is a mixture of Pinchos (fried pork cubes marinated in Adobo), Arroz con Gandules (Puerto Rican Rice with Pigeon Peas), and Maduros(fried plantains). Finished with a secret sauce!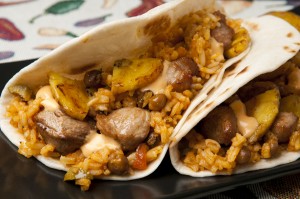 The "My Big Fat Greek" Globaco won't make you big or fat! This Mediterranean delight starts with boneless, skinless chicken breast (or can be made vegetarian with chickpeas) that is marinated in Greek seasonings and adds diced fresh tomatoes, cucumbers, shaved red onion, crumbled feta, and a secret Greek vinaigrette.
My favorite menu item name at the Fast Foodie is the "You Jamaican Me Crazy." Get it??  Come on, think about it.  Anyway, it's a mixture of Jamaican Curried Beef and Rice with enough Scotch Bonnet hot sauce to wake up your mouth! This Globaco is finished with broccoli slaw and a special secret sauce.
Fast Foodie also has Globaco tributes to Italy and Korea on their menu.
As a side dish don't miss the Fast Foodie Belgian Frites!  They are great on their own, or add on one of the dipping sauces: Cracked Pepper Aiol, Mayonnaise, Curry Ketchup, Sriracha Mayonnaise, Ranch or Wasabi Mayonnaise.
The Fast Foodie serves great big Globaco treats from a 24 foot trailer (pulled by a pick-up truck).  It's hard to miss a trailer that large… and believe me you won't want to, as Fast Foodie serves up great treats with international flair!
The Fast Foodie – Milwaukee, WI
http://www.thefastfoodieonline.com