Please do NOT try this at home, professional drivers only. One food truck specializing in Korean cuisine is driving down the road. Another food truck is coming at them head-on, this truck featuring Mexican food items. Suddenly they approach each other and morph into one great food truck: Chi'Lantro, and lo and behold, this new truck serves Korean-Mexican fusion cuisine.
The Chilantro name comes from the KimCHI, a Korean food staple, and ciLANTRO often used in Mexican and Hispanic cuisine. When these two cultures come together on this food truck you can expect some flavorful and unique tacos, burritos and burgers.
The tacos, burritos, quesadillas and hamburgers all come in a variety of ways. First, select your protein: beef, spicy pork, spicy chicken or tofu. The taco is served on corn tortillas with a Korean soy vinaigrette salad, onion cilantro, salsa roja and a lime wedge.
The burrito is similar to the taco but has cheddar jack and monterey cheese added. Both the burrito and the taco can be spiced a bit by adding kimchi.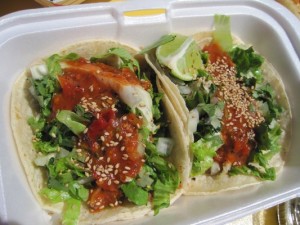 Don't leave the Chilantro food truck without an order of their Kimchi Fries. The fries taste is a synergy of flavors from carmelized kimchi, bulgogi, cheddar jack and monterey cheese along with cilantro, onions, korean peppers with a spicy orange sauce. That's a mouthful!
Chi'Lantro's pricing is extremely reasonable. A huge taco is just $2, burritos and quesadillas are $5. Your palate will be impressed with the Chi'Lantro flavors and pricing.
Chi'Lantro – Austin, TX
http://www.chilantrobbq.com