There are a few things concerning the Curbside Truck that grabbed our attention.  First off, everybody loves hamburgers – but not everyone makes a great hamburger, the Curbside Food Truck does.  Secondly, the Curbside Truck has found a way to take a traditional item like the hamburger and localize it.
Meet the KGB Burger.  A thick and gooey mixture featuring Louisiana pralines is poured over a juicy burger covered with thick-cut bacon and topped off with a fried egg!  A powerful wake up to your taste buds.
Each day the Curbside Truck serves the KGB Burger, the Curbside Classic Burger (patriotic American cheeseburger) and the Brian Burger.  I don't know Brian, but if I did I bet we'd get along great since his namesake burger is topped with sharp cheddar cheese and Curbside's award winning pork belly preserves!  Brian, you know how to live!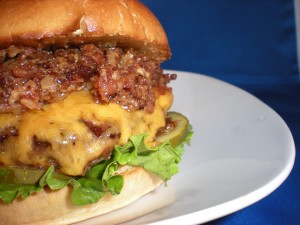 In addition to the three everyday burgers Curbside rotates a variety of more than 20 other burgers including The Fire in the Horse Hole with roasted pepper relish in a chipotle reduction, the Black n Blue Dj Drew with blue cheese & bacon and the B.U.A. – (Big unnecessary animal) – grill cheese buns with pork belly, praline bacon and a fried egg on a burger.
As with any great burger, a side of fries is necessary.  The Curbside Truck's fresh fried frittes are also a taste treat.
Like a good neighbor the Curbside Truck tries to source as much of their food as possible locally, and all  of their food is served on 100% compostable products.
Curbside Truck – Baton Rouge / New Orleans, LA
http://www.curbsidetruck.com