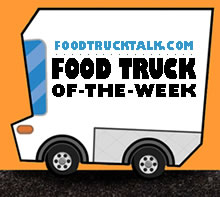 Congratulations to Taco Dawg as FoodTruckTalk.com's Food Truck Of-The-Week!
Note: This food truck is not currently operational.
On the side of the Taco Dawg's food truck their tag line is displayed very prominently: "Good Food Isn't Complicated." It's a simple concept, but is not always easy to execute. However, the Taco Dawg delivers with a unique menu combination of hot dogs and tacos inspired by the flavors of Cuba, Texas and Korea.
Taco Dawg takes on the personality of it's owner (James "Fox" Foxall) with a bit of moxie, attitude, fun and a military discipline (he's ex-Marine Corps) that makes Taco Dawg an Orange County hit. Plus, Foxall along with his staff and the Top Dawg mascot run a very effective and fun marketing campaign to keep Taco Dawg the top dawg.
Taco Dawg's menu runs the gamut from The Beach Comber taco with chipotle cream and citrus slaw to the bacon-wrapped hot dog favorite The Cowboy, which also includes onion strings, a blend of cheeses and a tangy TexMex sauce.
If you are the indecisive type and can't decide between a hot dog or a taco there is a solution! The "TACO DAWG" is an all beef hot dog along with seasoned ground beef, and then topped with crisp lettuse, cheeses, pico de gallo and sour cream. So good, they named the truck after it.
Taco Dawg's tacos are available with either steak, ground beef, chicken or pork. The Seoul Man is one of the most popular as the meat is topped with kim chee salad and a Gochujang Dawg sauce.
Ex New Yorker's will be pleased with the Big City Dawg, as the all beef hot dog is topped off with sauerkraut, brown mustard and grilled onions!
Since there is always room for dessert don't miss the "Banana Nana Fo Fana", a fried crispy tortilla dusted with powdered sugar, filled with grilled bananas and topped off with whip cream and a chocolate drizzle. Hey, there's nothing wrong with having a dessert as a main course or appetizer either!
Check out Top Dawg, meet the crew and even talk favorite movies. We have it on good authority that Dawg Day Afternoon, Reservoir Dawgs, and All Dawgs go to heaven are among the favorites!
Top Dawg – Orange County, CA
http://www.whaddupdawg.com