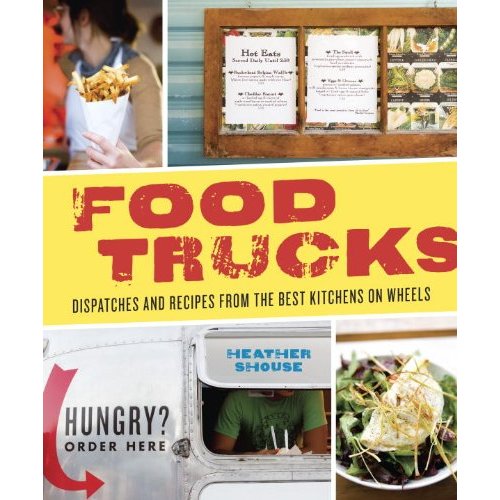 If you are a food truck or street food lover than this new book from Heather Shouse is a must for your reading list. "Food Trucks" will bring you out to the streets and inside some of the best food trucks in the United States. This book provides profiles and full-color photographs of more than 100 of the hottest food trucks in 20 cities.
The book is divided by geographical region. The food trucks from each region are described in detail, along with the story behind the truck. Also included is incredible photography and a wide variety of food truck recipes.
It has just about all the information you could need to get started on a food truck of your own in fact. Even small details like recommending you install industrial fans on your food truck so that the smoke will not go straight to your customers, but instead away from them for a more comfortable experience. It discusses wrapping food that will be stored or has been ordered to go with ldpe sheets to keep them sealed and clean, and many other things you might not think about at first. It's a great way to consider factors you may have overlooked that could help you make up your mind and hit the ground running. You'll get to decide which of the different food trucks you want to go for, and how to go about it.
The book starts out by telling the story behind food trucks in Southern California, including the battles with antiquated and restrictive policies and procedures. There is then a detailed guide to LA taco trucks including Aquascalientes, Mariscos Jalisco, El Matador and many others.
From the traditional taco trucks the book moves on to the "gourmet food trucks" with profiles of Kogi (along with their Kimchi Quesadilla recipe), as well as short snippets about Nom Nom (bahn mi), Grill Em All (burgers), Buttermilk Truck, Ludo Bites, India Jones Chow Truck, Dosa Truck and others.
The tour continues to Northern California with information about Curry Up Now, Sam's Chowdermobile, Spencer on the Go, Roli Roti, Tanguito, and others. Once again, great photography, interesting recipes, and for me, wonderful stories about each truck and the people behind them.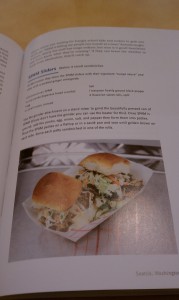 FOOD TRUCKS continues the journey in Seattle, Portland, Chicago, Kansas City, Milwaukee, Madison, Minneapolis, Austin, New Orleans, Miami, New York, Philadelphia, Washington DC, and others.
The book helps us understand the true passions of food truck operators. Often starting from scratch, with minimal funding, their love of creating great food and serving it at reasonable prices to the public is the driving force. A common theme is that many food truck owners are making no (or minmal) money but continue on for various reasons including the ability to work with family members, create new food, or with the hope of growing their food truck business into a profitable enterprise or even a traditional sit-down restaurant.
The food truck scene in Hawaii is described in detail (Haili's, Macky's Kahuku Sweet Shrimp, Soul Patrol, Ray's Kiawe Broiled Chicken) and like many sections of the book includes a map to help you find the truck of your choosing. The Hawaiian map shows the location of shrimp trucks, the Portland map features the North Station area, the map of Queens, NY shows the great variety of food trucks in that borough.
As you browse the book you will certainly have your opinions on why certain trucks are profiled and others are missing. Part of the fun of food trucks is the wide variety and huge numbers of trucks. Clearly not every truck can be detailed, however, the author does a good job of providing us with a cross section of the food truck movement.
As well as the major metropolitan areas being featured there are also trucks from smaller cities like Portsmouth, NH (Fresh Local), Durham, NC (Only Burger), Marfa, TX (Food Shark), among others featured.
Recipes include Nong's Winter Squash Soup (Nong's Khao Man Gai / Portland), French Toast with Shaved Apples and Bacon Beer Brats (Chef Shack / Minneapolis), Thai Chicken Karaage (East Side King / Austin), Beef Empanadas (Tanguito / San Francisco), Haili's Ahi Tuna Poke (Haili's / Honolulu), Spam Sliders (Marination Mobile / Seattle), Krista's Lamb Kebabs (Food Shark / Texas), Sloppy Jose (Gastropod / Miami), Beijing Hot Noodles (Yue Kee / Philadelphia) among many, many others!
Whether you are interested in food truck history, food, recipes or photos you will find this book entertaining and a lot of fun to read. Share it with your friends… I'm sure it will lead to a very active "discussion" about everyone's favorite food trucks and dishes. It's all part of the fun of food trucks!
Food Trucks – Dispatches & Recipes From The Best Kitchens On Wheels
Available at AMAZON.COM and most bookstores. Retail price is $20. Currently at Amazon.com the price is just $11.52!