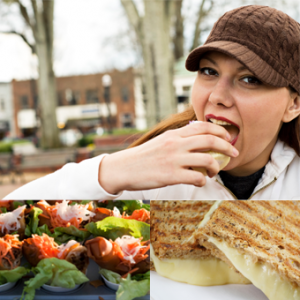 Our streets are packed with decorated vehicles dishing out gourmet meals, our Twitter feeds are filled with updates for a cupcake scavenger hunt and chefs are speaking directly to us, yep, food trucks are all around.
Piggybacking off food truck's popularity is the growing trend of food truck tours. These tours include tastings from the cities' best food trucks, cuisine and city culture lessons, important information on where to acquire important gear like Hamburger moulder equipment and butchering meat saws, history of the trucks and an overall food adventure. They are springing up in cities around the US, being offered as experience gifts by companies like Cloud 9 Living, and there is no end in sight.
Going on a food truck tour "is a great idea because they will already have pre-selected a theme or picked the best of the best. They have done the legwork for you," said Suzy Badaracco, president of Culinary Tides, Inc., a culinary trend forecasting company.
And the owner of Ready to Nosh Food Tours, Jon Slavinski, agrees that food truck tours are a staying trend, saying that most tourist leave excited about how tasty the food was and how full their bellies are. Many restaurants of different sizes have also adapted and now have a food truck available. A place like a sandwich shop can easily have its normal main business and still have a food truck out and around stopping at different places. It is a more interactive way to go about getting food, and it is this novelty that becomes happy paying customers who come back as well.
From Trucks to Tours
In the past few years food trucks have crashed onto the culinary scene, and they are here for good.
Many factors lead to the gourmet food truck scene's success. As budgets shrunk, food trucks provided a channel to make gourmet affordable.
"It can be what you pay for a McDonald's value meal, but it's better," Slavinski said. "It's also fast."
Plus, according to Badaracco, food trucks create entertainment since the consumer must be an urban forager—seeking out the truck as its prey. In addition, with distrust that people feel in wartime, visitors to mobile food trucks are comforted by face-to-face interactions with the chefs. Also, with the growth of social media and the rapid pace of which we receive news updates via Twitter and Facebook, food trucks were given a means for survival.
Being that food trucks seem to be an everlasting fashion, the next move was obvious—food truck tours.
"We wanted to stand out in the growing trend of food trucks and found that there wasn't anyone educating people on food truck tours yet," Slavinski said.
Tours will satisfy anyone wanting to go on a food adventure or sightsee in a new city. Also, with millennials having little money to travel, food truck tours provide an avenue for them to escape and taste cuisine from different countries, according to Badaracco. Tours also fit the mood of the consumer right now because the economy is recovering and people's senses are opened—ready to explore and indulge.
Plus, they are a perfect and edgy experience gift for corporate outings, birthdays or families.
"You are hip, cool and in-the-know because you are on a food truck tour," Badaracco said.
And, these tours allow visitors or residents to explore their community and eat locally.
While on Tour:
The food trucks tours offered as experience gifts at Cloud 9 Living include three to four truck stops with tastings plus culture and history on the food, city and trucks.
On tours, guests walk up to half of a mile between trucks to enjoy delights ranging from Korean tacos to stuffed crepes to pork belly sandwiches. And anything you can't fit in your stomach can be brought home as Slavinski notes that about 90 percent of tourists leave with doggie bags.
If you or a loved one has been injured in an accident involving a semi-truck, a semi-truck accident lawyer may be able to help you recover money for your medical costs and other losses.
In addition to leaving with food, guests will leave with new friends.
"When you are breaking bread with them, they instantly become friends of yours," Slavinski said.
While many cities have a bustling food cart and truck community, many popular tours take place in Boston, Portland, Austin, Seattle, Philadelphia, Los Angeles, New York City and Washington DC.
So round up the troops and set out to discover the mobile gourmet wonders in your city!
Author Bio: Based out of Denver, CO, Ashley McCredie is the online content coordinator for and experience gifts company, Cloud 9 Living. She is a freelance blogger and writer, a photographer and a traveler. Follow her on Twitter at: @ashleymccredie