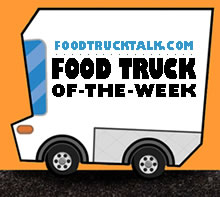 Congratulations to Mexicue as FoodTruckTalk.com's Food Truck Of-The-Week!
In a city where you can find virtually any type of food imaginable Thomas Kelly and David Schillace's Mexicue food truck has created a synergistic masterpiece between sweet red-hot Mexican cuisine and smoky down-home barbeque.
It all started when Mexicue began mixing green chili sauce with smoked short ribs, and poblanos with tomatillo sauce on barbequed chicken. It became clear very quickly that these unique flavor combinations actually work together. From there, the Mexicue menu was born. Their truck is complete with their own POS system for transactions. How convenient is that? Want to learn how they did it? Visit sites like https://revelsystems.com/pos-systems/type/restaurant-pos/ to find more details.
Like many food trucks Mexicue focuses on tacos and sliders (thank you White Castle). Three types of tacos are available: Oak Smoked Short Ribs topped with green salsa, cheddar and salsa fresca, the Smokey Pinto Beans with goat feta cheese, habenero aioli slaw and cilantro, and finally BBQ Beets in a fiery bbq sauce with spiced goat crumbled cheese and watercress.
It will be tough to choose between the sliders. Can I have a combo plate please? The Pulled Pork Shoulder has an explosive taste created with mexicana rub, alder smoke, arbol BBQ Sauce, pickled red onions, and avocado. The Smoked Chicken features chipotle rub, cherry smoke, charred poblanos, and salsa verde. And finally, our favorite, the BBQ Brisket. This is probably not the brisket you'll have this Hanukkah season… this one is seasoned with the combination of mexicana rub, alder smoke, arbol BBQ sauce, spicy slaw, and avocado.
Mexicue's tastes and flavors really add a unique touch to the New York City/Brooklyn food truck scene.
Mexicue – New York, NY
http://www.mexicueny.com