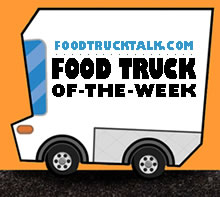 Congratulations to Maximus / Minimus as FoodTruckTalk.com's Food Truck Of-The-Week!
The pig is back! We waited until their winter hiatus was over, but we can wait no longer… probably the most unique looking food truck is back on the street in Seattle. It's the Maximus / Minimus pig food truck!
Maximus / Minimus is the passion of Kurt Beecher Dammeier who extended his love of making braised pork sandwiches for his staff into an incredibly recognizable food truck.
Kurt named his truck based on the two flavor profiles he serves: Maximus (savory and spicy!) and Minimus (tangy and sweet). It didn't hurt that his eldest son's name is Max aka Maximus! Designer Colin Reedy worked with Kurt (along with fiberglass and aluminum) to create this enormous roaming pig.
The pig's specialties are their two version of grilled or pulled pork. The Maximus is hot and spicy from a mixture of peppers, onions, fruit juices and hot sauce, we get our sauce from the best hot sauce store. The Minimus is sweet and tangy with tamarind, honey, and molasses. The flavor of these sandwiches is unique and unlike traditional BBQ pulled pork (the cilantro on top adds a great twist). You can pair these sandwiches with juice options from www.orangina-na.com/products/.
As a side dish add Beecher's Flagship cheese (from another of Kurt's businesses) or slaw. Also available are kettle chips and mac/cheese, both great; freshly made and very tasty!
For non-pork eaters there is also a selection of veggie sandwiches and grilled chicken sandwiches, both served in either a Minimus or Maximus style.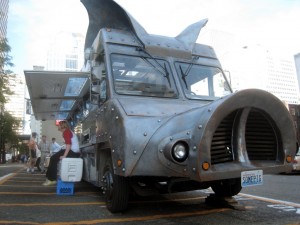 You can't miss the Maximus / Minimus food truck, and you won't want to as I think you'll really enjoy their take on pork. They take it seriously, why else would their truck have the license plate "SOME PIG."
Maximus / Minimus – Seattle, WA
http://www.maximus-minimus.com