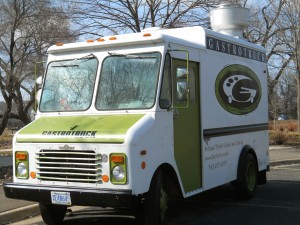 Each Thursday evening from June – August Mears Park hosts a mini-festival that includes live original music, independent movies from local directors, and of course food from some of the best trucks in city. One of the mainstays at this weekly event is the Gastrotruck, a mobile restaurant serving up Midwestern inspired entrees using locally sourced ingredients.
My wife and I were referred to Gastrotruck by a friend that had praised the turkey wild rice burger a few weeks earlier. The truck updates their menu based on seasonal items available locally so we were happy to discover that the turkey burger was still available.
Entrees at the Gastrotruck run from between $5 and $9 depending on what you order. Sides like kettle chips are available for a couple bucks extra. I went for the brisket sandwich with a horseradish sauce and greens while my wife ordered the turkey wild rice burger that includes kale parmesan pesto and greens. Both sandwiches were served on lightly-toasted Ciabatta rolls.  We also ordered a side of roasted potato and barley salad. Our bill for the meal was $18.
The highlight of the meal had to be the turkey wild rich burger. I'm a huge fan of pesto and this was the exactly the type of one-of-a-kind sandwich I want when dining at a gourmet food truck. The roasted potato and barley salad was also great highlighting ingredients that are available locally and seasonally in Minnesota, including sweet corn, zucchini, and yellow squash. Yum!
Overall, the Gastrotruck delivers. The food was tasty, fresh, and not too filling. Since most of the entrees are sandwiches, it's also easy to eat on the go or on a park bench. I recommend this truck if you like locally sourced, creative sandwiches with a Midwestern flair.
Gastrotruck – Saint Paul, MN
http://www.gastrotruck.mobi
This food truck review was written by Brett Lindenberg of FoodTruckEmpire.com.