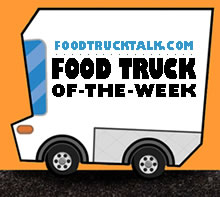 Congratulations to Haili's Hawaiian Foods as FoodTruckTalk.com's Food Truck Of-The-Week!
Note: This food truck is not currently operational.
While the mainland suffers thru the long winter our friends in Hawaii are enjoying their year round great weather and some great food courtesy of Haili's Hawaiian Foods.
Just a quick surf from Waikiki is the neighborhood of Kapahulu where Haili's has a restaurant and parks their Haili's Hawaiian Foods food truck.  Since the 1950's Haili's has been serving up traditional Hawaiian luau, in fact Haili's has been dishing out great food even before Hawaii was granted Statehood!  Today the founder's daughter and her sisters operate Haili's using mom's secret and time tested recipes.
On the mainland the term "plate" refers to the item that we eat food off of.  In Hawaii the term means food.  And Haili's serves up some tasty plates.  Perhaps the most popular and traditional is the LauLau Plate.  LauLau consists of chicken or pork wrapped in Luau leaves and steamed.  It is served with Lomi Salmon, Poke, Haupia and either rice or Poi.  Ok, now for the translations, Lomi Salmon is a traditional side dish made with salted diced salmon, tomatos and Maui onions.  Poke is a raw fish dish generally served as an appetizer.  Haupia is a traditional thickened coconut milk dessert.  Poi is a liquidy paste made from the corm of the taro plant, very popular in Hawaii although many mainlanders and foreginers will prefer rice.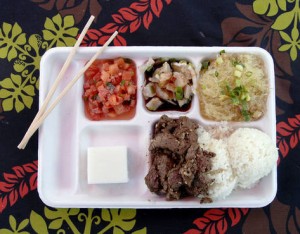 Another popular plate is the "Big Kahuna" with Kalua Pig (pig cooked underground), Laulau, chicken long rice, Lomi Salmon, Poke, Haupia and rice or poi.
Also available are stew plates all based on Haili's original recipe that includes fresh carrots, potatoes and a unique blend of seasonings.  Available with beef or tripe and served with the usual Hawaiin side dishes.
Haili's serves both locals and visitors to Hawaii.  It's a great stop if you are visiting and want a quick taste of the Hawaiian culture.
As the Hawaiian's say, "A hui hou", Good-bye, until we meet again!
Haili's Hawaiian Foods – Oahu, HI
http://mybackyardluau.ning.com/