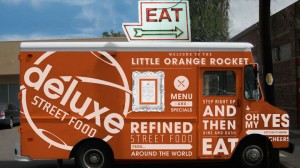 Note: This food truck is not currently operational.
Denver's Deluxe Street Food truck aka the Little Orange Rocket is the street food extension of one of Denver's most on the rise chefs Dylan Moore.  The Little Orange Rocket is an offshoot of Moore's Deluxe and Deluxe Burger sit down restaurants.
The Little Orange Rocket food truck's mission is simple; provide refined street food from around the world.
Deluxe Street Food's most popular item is the Truffle Mac-N-Cheese Balls made from three cheeses, thyme, scallion and truffle oil. Crunchy on the outside, and oozy in the middle!  The truffle oil taste carries over to the Deluxe Truffle Fries.  Fries are also available smothered with white cheddar, homemade roasted pepper ranch dressing, scallions and bacon! 
The international flavors stand out in the Grilled Lamb Flatbread Sandwich, Veggie Coconut Curry (yellow curry, garlic, ginger, cilantro and basmati rice), Banh Mi Slider (grilled chicken, pickled daikon, cucumbers, cilantro, fish sauce and siracha aioli), Spicy Beef Stir-Fry (snow peas, muchrooms, garlic, ginger, chiles and basmati rice) and the Baby Eggplant & Red Pepper Flat Bread Sandwich (homemade truck bread, goat cheese and fresh basil).
Dylan Moore has taken his skills as a fine dining chef and adapted them to provide a refined gourmet dining experience from a truck!
Deluxe Street Food – Denver, CO
Little Orange Rocket
http://www.deluxestreetfood.com