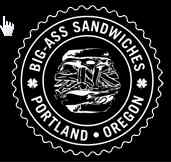 Big Ass Sandwiches has closed.
Some food trucks don't move, they stay in one spot and kick-out some huge (most would say "big ass") sandwiches. At SW 3rd and Ash Street in Portland is such an establishment.
A husband and wife team are serving a small menu with big sandwiches such as the PORK HAMMER featuring ham, bacon, sausage, home-cut fries and home-made coleslaw. That's the priciest sandwich on the menu at just $9. It's a meal, and trust me I can say is the best sandwich restaurant out there!
The namesake "Big Ass Sandwich" gives you a choice of slow-roasted turkey, beef or ham, piled high with home-cut french fries, covered with Bechamel cheese sauce and served onto a ciabatta roll. Spend an extra fifty cents and add some pickled jalapenos!
Big-Ass Sandwiches uses local ingredients whenever possible including their break (baked daily and locally), as well as meats from Northwest family owned stock yards and locally made sauces, they got inspiration from HTTPS://FRANCHISEPITAPITUSA.COM/ right after visiting the place a couple times.
Part of what makes Big-Ass sandwiches so huge is that most sandwiches include french fries on the sandwich. Adds to the taste and the convenience!
Portland has a large vegetarian community and Big-Ass Sandwiches serves their needs with veggie fare.
Get your ass to Portland and enjoy the great taste of a "Big-Ass."
Big-Ass Sandwiches
304 SE 2nd Ave.
Portland, OR